Organon is celebrating its 100th anniversary on International Women's Day with the opening of the Experience Center and a Women's Health Symposium
March 7, 2023 7:18 pm EDT
AMSTERDAM/OSS – Organon is celebrating its 100th anniversary. What started in 1923 as a local Brabant company known for the contraceptive pill, grew into a global player making a difference for women's health. To celebrate this special anniversary, the specifically designed Experience Center will be opened on International Women's Day, March 8, and Organon will host a symposium with experts in the field of women's health and policy.
The Experience Center in the home port of Oss offers a unique insight into one of the Netherlands' best-known companies: 100 years of history, working in a drug company and improving women's health around the world. The official opening ceremony will be performed by the Deputy Ambassador of the United States, Aleisha Woodward, together with the Mayor of Oss, Wobine Buijs, Organon Oss Site Director, Wenny Raaijmakers, and Managing Director of Organon Benelux, Petra Willems. "Together, we must ensure that women have access to the care they deserve," says Aleisha Woodward.


Petra Willems (Managing Director of Organon Benelux): "Anyone who looks at the Organon of today sees a life science hub that is working on pharmaceutical innovation. With one clear objective: to honor the commitment to improve women's health. If women are less hampered by symptoms and/or conditions that can be prevented or treated in a better way, then so much more female potential is released. And that benefits society."
In addition, there is significant investment in Oss, where Organon's largest production site in the world is located. On this site, new robot production lines, (extrusion) machines and multiple new packaging lines will be installed. All told, Organon is currently investing around 40 million euros in the expansion of the modern production facilities in Oss.

Organon started as an independent company in Oss in 1923 and was hived off from the American company Merck & Co (MSD outside of the USA and Canada) in June 2021 after several acquisitions by other companies. The name Organon then reappeared. As an independent healthcare company, Organon is committed to improving the health of women worldwide and to increasing gender and gender-specific healthcare. Important steps have been taken in the past two years, including targeted collaborations and acquisitions.
For example, with the acquisition of Alydia Health (for a solution in the field of severe bleeding after childbirth), a collaboration with Obseva (for research into the treatment of premature childbirth) and the acquisition of Forendo Pharma (which is conducting research into endometriosis, among other things). Organon has recently started a collaboration with Cirqle that is conducting research into non-hormonal contraception. In April 2022, Organon announced that it would significantly expand production in the Netherlands. Organon has approximately 1,200 employees in Oss and Amsterdam (Benelux office); the company employs more than 9,000 people worldwide.

Prior to opening the Experience Center, Organon is celebrating its anniversary by bringing together experts from science and healthcare in the field of women's health and leaders from politics, government and business. This will take place during the symposium "Organon & Women's Health – from Legacy to Future Promise", where, among others, Samira Rafaela (MEP), Jannet Vaessen (founder and director of Women Inc.), Prof. Dr. Angela Maas (emeritus professor RadboudUMC, cardiology for women) and Prof. Dr. Annemiek Nap (Head of Obstetrics & Gynecology, RadboudUMC) will discuss closing the health gap. During the conference, Aleisha Woodward will discuss the relationship between the United States and the Netherlands in the field of life sciences and the important mission in women's health.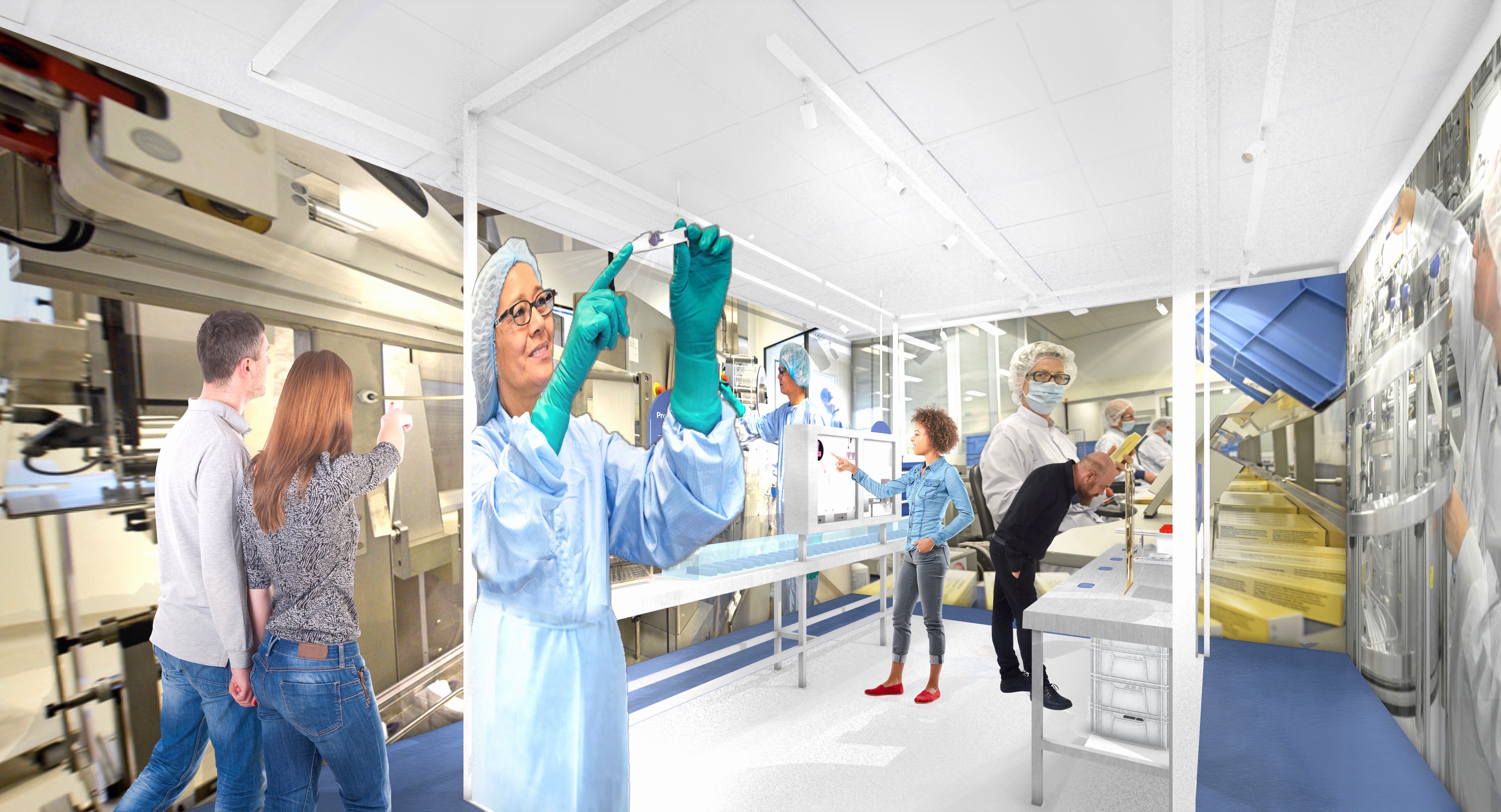 At the former Girls' School in Oss – the home port of Organon, the Netherlands – Organon will provide, with the Experience Center, a unique look behind the famous "blue wall", or can we say "behind the mural"? The anniversary book "Een nieuw bedrijf met 100 jaar historie" [A new company with 100 years of history] is also available at this Experience Center.

— Opening hours: Tuesday, Friday and Saturday, 10 a.m. – 4 p.m.
— Address: Oude Molenstraat 2, Oss
— Visitors can register via the website.
— Groups of more than 15 people must register by e-mail. This email address can also be used if you have any questions.